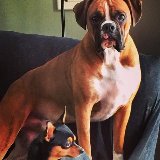 "I just have to say Deb is incredible. My dog is now extremely well behaved and has come such a long way. It's amazing! I recommend Deb to everyone. No issue is overwhelming to her!!! Gunner loves you Deb!"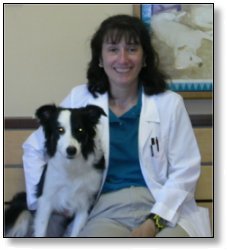 "I have known and trained with Debbie Shoener of Canine Academy since 1985. She is one of the best trainers I have trained with, in my 20 years of dogs. Debbie has a special insight into dogs and their innate needs and behaviors. She has good "dog sense" and is able to "read" individual dogs. Also, she is especially good at working with dogs with major behavioral problems. As a progressive trainer, she has taken many behavior courses and is a member of the National Association of Dog Obedience Instructors. I refer all of my clients to her and I recommend her wholeheartedly!"
–Mary Patrice Ezzo, VMD, MPH
Buck Road Animal Hospital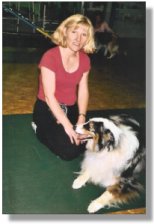 "Having three dogs can be a challenge, even when they are very well behaved. Several months after adopting a Greater Swiss Mountain Dog, he and our other two dogs, a shepherd-collie mix and an Aussie began to exhibit aggressive behavior toward each other. That's a lot of dog aggression in one house!! I enrolled all three dogs in Canine Academy for a few private lessons and then in the group class. I have learned how to prevent and extinguish this aggressive behavior, so that my household is no longer a dog- fighting ring. We were also able to correct my Aussie's neurotic fear behavior. He can now walk on hardwood floors and climb stairs without undo anxiety. Thanks to Canine Academy, we enjoy our dogs much more and they are happier too! Canine Academy is a great place to take your dog/puppy for obedience or behavioral problems."
–Margaret Beyer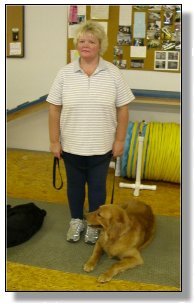 "My pets and I have attended classes at Canine Academy for the last five years. I have used other facilities in the past and was not pleased. From a personal note, my dogs have completed training at Canine Academy, being more obedient and better socialized. The most important part of the class was that we had fun. It was a way to spend "special time" with each of my dogs. The facility is roomy and the instructors have experience with solving different problems, such as chewing, digging, and jumping. From a professional level, as a Vet Tech, I refer clients to Canine Academy on a regular basis. These puppies, that needed basic training and socialization, have grown up to be well-adjusted dogs. Aggressive dogs and dogs with other behavioral issues have benefited and received the individual help they needed. I have always received positive feedback from our clients. Training is good for all dogs of all ages, and I would recommend Canine Academy to anyone interested in owning a better pet."
–Cathy Craig
Vet Tech, Trevose Veterinary Hospital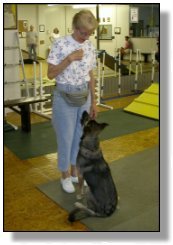 "Thank you for training me and my dogs over the past 15 years. You are knowledgeable regarding dog behavior, taking into account each dog's personality during training. Dogs are willing and responsive to Debbie. It is a learning experience for the owner and their dog. I have learned from you to be patient, yet persistent. Thanks again!"
–Gail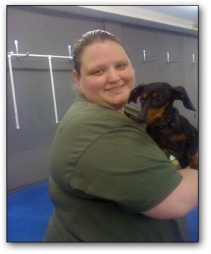 "I first came to the Canine Academy four years ago with my dog Kiwi (a miniture dachshund), for behavior and obedience training. After a few individual lessons with Debbie, Kiwi's behavior greatly improved and we completed both Phase I & II obedience classes. The fundamentals learned in these classes allowed us to pass the AKC Canine Good Citizen test a year later. I also started Kiwi in an Agility class as a way for us to have fun together and we enjoyed it so much that we are still currently in a class. We also joined a Rally class after Debbie suggested it as a fun way to reinforce the obedience commands we learned. I was surprised at how much both Kiwi and I enjoyed it and at how much her obedience improved. While these classes have been a great way to keep Kiwi's mind and body active, so has Daycare. Three to four days a week, Kiwi is in Daycare and she absolutely loves it. It allows her to play and socialize with other dogs in a safe environment. She has fun and wears herself out at the same time, making both of us happy. Deb, Shirley and the experienced staff are great and treat your dog as one of their own. The Canine Academy is a great place for both you and your dog to learn, play or stay all day!
–Janelle Vansant
"When that special four-legged someone comes home for the first time, every canine owner knows that their life is about to change forever. Dogs, no matter what age, can be likened to babies: they need lots of love, attention and care. Most importantly, they need a responsible "parent" that will see to their every need. Even before we brought Yogi, our smooth-coated collie home, we began the search for a place that specialized in canine obedience training. Once we came across Canine Academy, we knew that it was the right place for Yogi and for us. Canine Academy offers numerous programs to fit your dog's needs; no matter the age, sex or type. We enrolled Yogi in the sub-novice class where we worked with a personal trainer, Shirley, on important life-long skills such as sit, stay, heel, down, and come. Shirley also gave us effective strategies on how to control barking, biting, jumping, house breaking, and grooming. The trainers, who are experienced dog owners and handlers themselves, are willing to work around your busy schedule and your dog's needs. The facility, which is located right off of 95 in Pennsylvania, was clean, safe and dog friendly. Yogi definitely benefited from his sessions at Canine Academy, and his progress shows not only to us, but also to friends and neighbors who are constantly remarking, "Your dog is so well behaved!" We unanimously give Canine Academy two paws up!"
–Dr. Vishwa S. Raj, MD and Mrs. Danielle L. Raj
"I first brought my golden retriever to the Canine Academy when he was 9 weeks old. I knew he would become strong very quickly and did not want to wait until he was full grown to start teaching him how to behave. I immediately thought of the Canine Academy, where my parents brought one of their dogs many years ago. Deb has been an excellent instructor. The training showed me how to properly mold my pet's behavior. Bailey is now 9 months old (and 80 lbs) and I love when people comment on how well behaved he is at such a young age. He is currently enrolled in the beginner agility class. The constant interaction with other dogs has definitely had a positive impact as Bailey matures, and he loves the classes. I would strongly recommend the Canine Academy to anyone, not just for animals with major problems. Bring your dog for basic obedience training.half of the training is for you."
–Darlene Stremic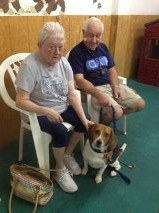 "We got Jax, a beagle puppy at 3 months old from a farm in N.J. He had some problems with growling when we touched him and with food aggression. We tried training with different commands but with no luck. So after 2 years we decided to try a training school and found out about Canine Academy from our vet. Since we have been going there we have seen a big difference in him. He no longer growls at us. We are so glad we went to Canine Academy and persevered with him. He is so lovable and a big part of our family.
–Jackie & Bill Keller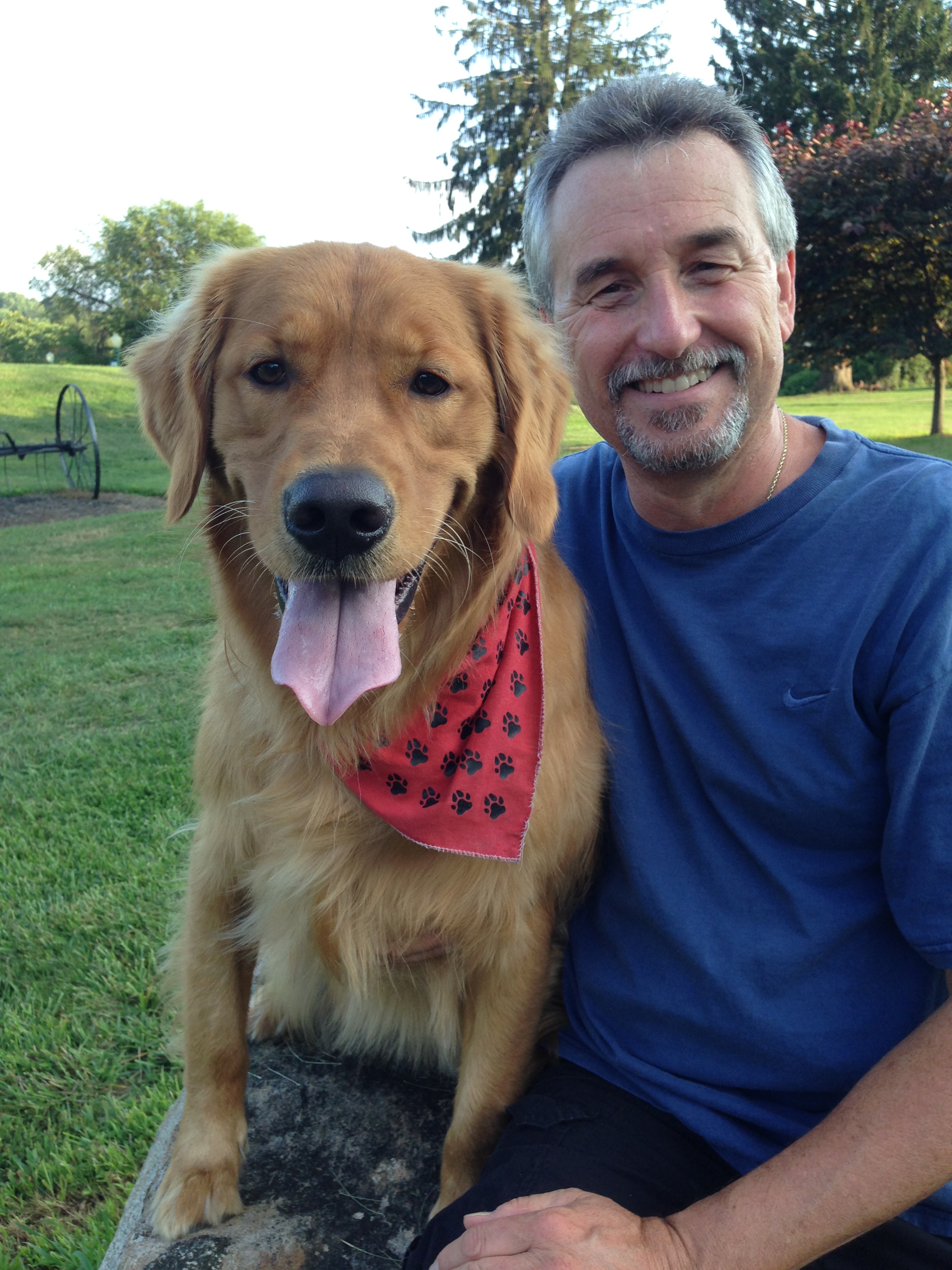 Dear Debbie,
This is a long overdue Thank You, but Canine Academy has given me peace and harmony to my life. That said, the same creature that brings so much love and joy to my life also brought a great deal of frustration and exhaustion. I knew from the day that I was told not to bring Jackson back to Puppy Kindergarten classes, that this would be a long difficult road to train him. You and Shirley are gifted in seeing things from the dog's perspective and showing me solutions to teach Jackson in a way that he understood. Thanks, I now think like a dog. But, seriously, the training of Jackson and I have improved the quality of our lives. I constantly have people comment on how they wish their dog could be as well behaved as Jackson. Debbie, I cannot thank you enough and are truly grateful to having such a well behaved dog.
Jackson is active with Therapy Dogs International and is recognized by The American Kennel Club as a Certified Therapy Dog. He has completed his TDIA Title (50 visits) and at the present time has 72 visits working towards his TDIAOV Title (150 visits).
If anyone is questioning whether your training is a good investment or not, please have them call me. It's the best money I have ever spent, and I would do it again in a heartbeat.
I cannot thank you and Shirley enough for all you have done for us!
Thanks,
Bob Wharton and Jackson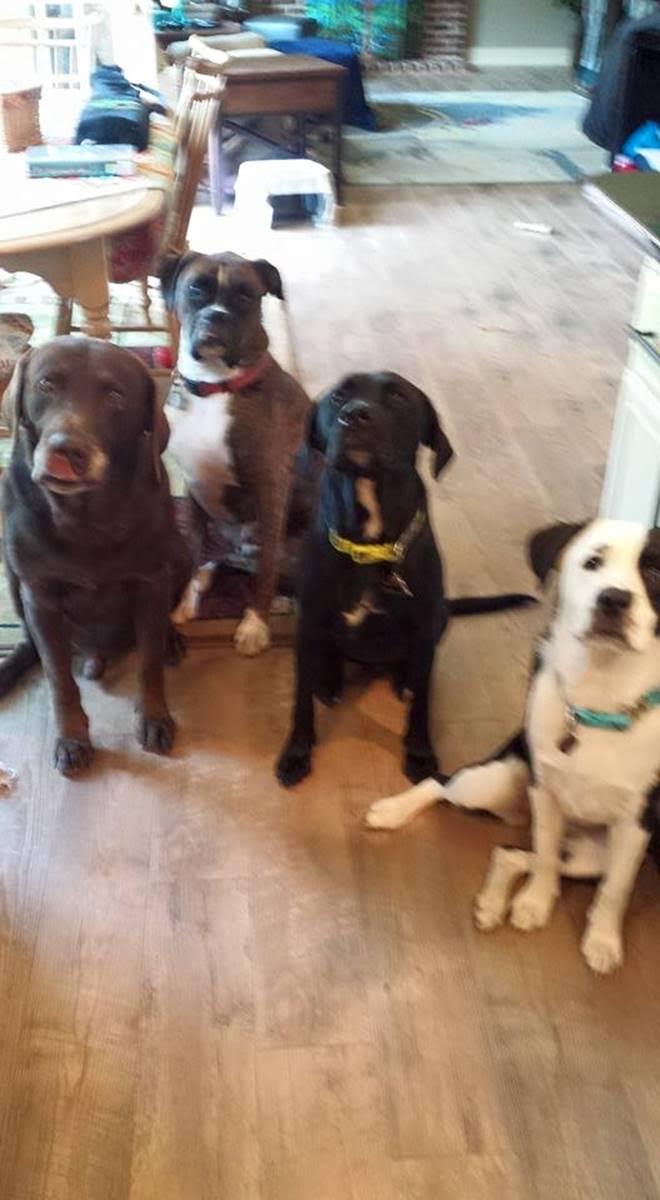 Hi, Debbie! I just wanted to THANK YOU once again for all the great instruction with Hank. He is a new dog and I am a much better Master to him under your guidance. We all know that the Canine Academy Degree was really meant for the handler, right? We now have four dogs under our roof, and I am using your guidelines to bring them all under my control. Starting with your advice that my old guy ("as long as he can walk the neighborhood he can be trained" said you") and moving onto my son's two rescues, who are generally good but the puppy was in desperate need of the command HEEL, we have made major progress. I can feed all four of them at once as they know who the boss is. THANK YOU a hundred times over. You helped me with Hank in the nick of time. My life is so much more stress-free and I can now manage as Concierge of My Doggie Hotel for the six weeks they'll all be here!
Cordially, Marilyn K Robinson